Attention all boaters:
CATALINA IS NOW OPEN!!!
The following information is from the Catalina Conservancy website:
Catalina longs for your return
During this difficult time, our hearts go out to all individuals around the world being impacted both directly and indirectly by COVID-19. The health and safety of visitors to and residents of Catalina Island, is our number one priority.
While the State of California remains under a "shelter in place" order from the governor, island businesses, parks, harbors and beaches are open with limited services. Los Angeles County environmental health orders are in effect including safe distancing and facemasks. Information on the current status of county Safer At Home mandates are available here. We recommend verifying any activity or business' status directly with them before planning a visit. The State of California has also provided a resource guide available here.
RESTAURANTS
Many restaurants are open and available for take out, dine-in, curb-side service and delivery. View a list of our Open Restaurants with links to view menus and phone numbers for call ahead ordering.
RETAIL AND SERVICES
Our services and many of our retail shops are open (some offer online ordering and delivery). View a list of Open Retail and Services.
Hair Salons and barbershops have been approved to open. Check with your favorite for operational details.
AVALON MOORINGS
Avalon Harbor Patrol​ announced the opening of Avalon Harbor on May 22. California's "Stay at Home Order" is in effect, your boat is your home. The fuel dock and shoreboat are available with limited hours. Open restaurants are take-out only.
Boaters may come ashore for essential activities.
Face coverings are required
Per LA County, beaches and the dive park are open for "Active Recreation" only – no loitering, congregating, sitting, etc.
Per LA County, the Green Pleasure Pier is closed and available only for dinghy dock use; no loitering, congregating, sitting or recreating on the pier.
TWO HARBORS & WEST END MOORINGS
Catalina Island Company announced on Wednesday, May 13 that it has received authorization from the Los Angeles County Department of Beaches and Harbors, with the concurrence of the California State Lands Commission, to reopen the moorings it administers in the Two Harbors area to all boaters beginning today, Thursday, May 14. The sites, which include Isthmus Cove, Cat Harbor, Fourth of July Cove, Cherry Cove, Hen Rock, White's Landing, Moonstone, Emerald Bay, Howland's Landing, Little Geiger and Buttonshell, will be available on a first-come, first-serve basis.
Boaters will be able to come ashore for essential activities including:
Food and necessary shopping at the Two Harbors General Store (face coverings are required)
To-go food/drink pick up from the West End Galley (items must be consumed aboard your boat per County regulations)
Restroom and coin-op shower facilities
Trash facilities
The Two Harbors pier is available for shore access only and is not open for recreational use. While beaches are open for active recreation, activities such as sunbathing, sitting, gathering and picnicking are not permitted.
GOLF COURSES
In accordance with LA County Guidelines, the Catalina Island Golf Course is open as of Saturday, May 9. The following changes have been implemented with our golfers well-being in mind:
Only four golfers will be permitted on the course with ten minute minimums between tee times
We have placed pool noodles in the cups so golfers do not need to retrieve their ball to minimize contact
Rakes and ball washers have been removed.
The pro shop is closed.
Bring your own clubs; rental clubs or rental pull carts are not available
Only one person is allowed per golf cart which will be disinfected between each use upon its return with EPA approved products.
The health and safety of our guests and golfers has always been our top priority and we appreciate you choosing to golf with us. Please click here for more information.
TRAILS
As of Friday, May 8, Catalina Island hiking trails are open.
In accordance with LA County directives, Catalina Island hiking trails including the Hour Trail and Hermit Gulch Trail are now open. Please visit the Conservancy website for new safety guidelines and additional updated information.
Hiking without a face mask is permitted except if you are within 6′ of a non-family member or someone with whom you are not currently quarantining; appropriate social distancing is required.
Do not use the trails if you are exhibiting any symptoms.
Please follow all current LA County guidelines, found here.
Conservancy Rangers and LA County Baywatch remain on patrol across the Island.
BEACHES
The first phase of planned beach re-openings, including Avalon's beaches, began this Wednesday, May 13. Here is a list of LA County's "Beach Rules" :
Only individual or family exercises and activities will be allowed, such as walking, running, swimming, surfing, kayaking or paddleboarding.
Face coverings will be required out of the water & around others.
Six feet (or more) of physical distancing will be required between individuals outside of the same household.
NO: sunbathing, chairs, canopies, coolers, picnicking, sitting or lying on the sand.
NO Biking: bike paths, piers & boardwalks remain closed.
NO: group sports (such as Volleyball), gatherings or events.
NO: fishing
If you or people you live with are sick, stay home!
Those violating beach rules may be fined or penalized.
AIRPORT IN THE SKY
Catalina Island's ACE Clearwater Airfield at Airport in the Sky is now open, with limited services, to all aircraft . Restrooms are open visitors and hikers. DC Gifts & Grill is closed and Wildland Express is not operating at this time.
WRIGLEY MEMORIAL AND BOTANIC GARDEN
Now open.
CASINO POINT DIVE PARK
Now open.
THE TRAILHEAD
The Catalina Island Conservancy announced the opening of the Trailhead on Monday, June 1, with limited operations.
LA COUNTY – EXAMPLES OF WHAT CAN BE OPEN
---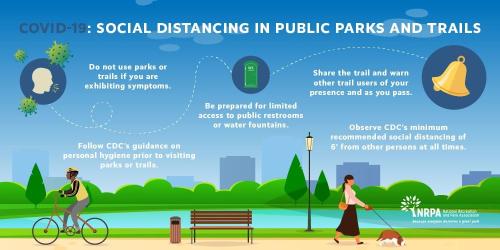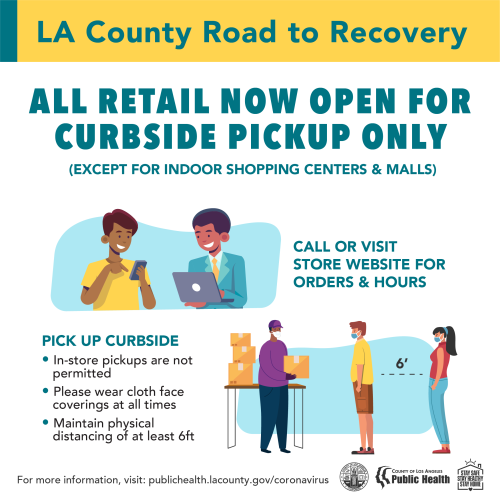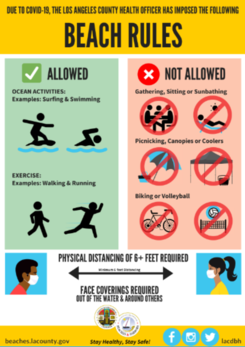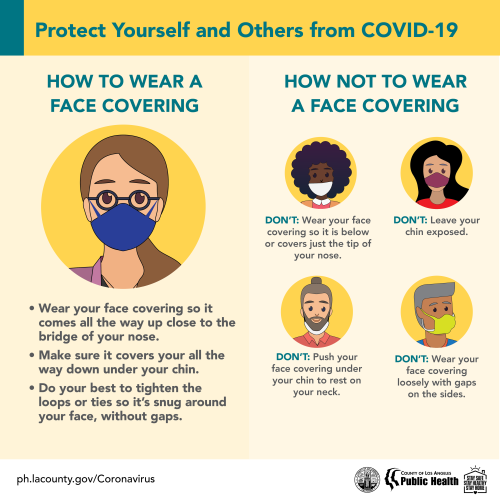 Many marina's have cut back office hours and reduced staff. Website information has largely not been updated to reflect most recent changes. Call first.
As of Friday April 17, 2020
Dana Point Marina
Guest slips open normal hours – 949 496 6137
Dana Point Fuel Dock is open by appointment 10-2.
Newport Beach Marina Park
Open – Office counter is closed but folks are in there and will answer the phone. If you go, American Legion, right next door, is selling food and adult beverages to go. They are good folks and could use your business.
Huntington Harbor
Sunset Acquatic Marina – Transients not accepted currently.
Pete's Landing Marina – Slips are full – but the 2hr guest slips for the restaurant and brewery are available.
Brewery is closed, but Pelican Isle is open for take out.
Fuel Dock is open 8-3 daily.
Long Beach Marinas (Alamitos and Shoreline)
Closed to new boaters including Transients.
Current slip holders can get a temporary slip in the other marina, but the marina is not accepting any boat they don't already have on file.
Office door is closed but their in there answering the phone.
Shoreline – (562) 570-4950
Alamitos – (562) 570-3215
Both Fuel docks are open normal hours 8-4.
Cabrillo Marinas
Carbillo Way Marina, California Yacht Marina (Cabrillo Marina), CBYC marina. – Closed to new boaters. Jankovich's Fuel dock is open normal hours 6-6.
Marina Del Rey
Burton Chase Park – Transient Guest Docks – Open normal hours – call 424 526-7910.
Del Rey Landing Fuel Dock – May be closed – call 1st – 310-574-4443.
Boat US provided the following guide to marinas in US and Mexico. https://www.waterwayguide.com/covid-19-reports